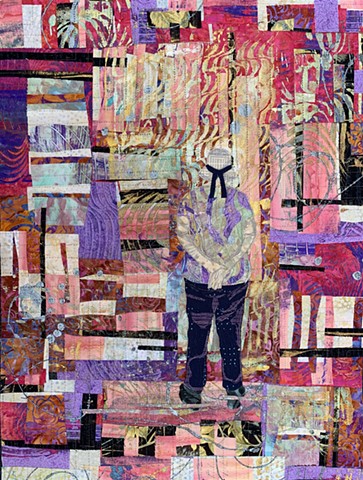 In today's world, it seems that we deal with the remnants of fires in various forms every day. It is difficult to find quiet and calm in the cacophony of sounds emitted in our current culture. By creating art of visual and tactile comfort, my work encourages quiet listening to the songs of the earth and the voice of the soul. It is from this place of listening that we are able to enhance our journeys toward seeking and strengthening the energy life force within each of us. Finding that strength allows us to heal so that we can meet the challenges and the noises after the fire.
My work is fiber based as I am drawn to the variety of colors, textures and patterns available. Encouraging sustainability, I strive to repurpose found fabric and ephemera and often include mixed media.
Photography by Mark Wallenfang, Appleton, WI

PROFESSIONAL AFFILIATIONS
Studio Art Quilters Association (SAQA) : Juried Artist Member


Images may not be copied, imitated, or used, in whole or in part, without the prior written permission of the artist.